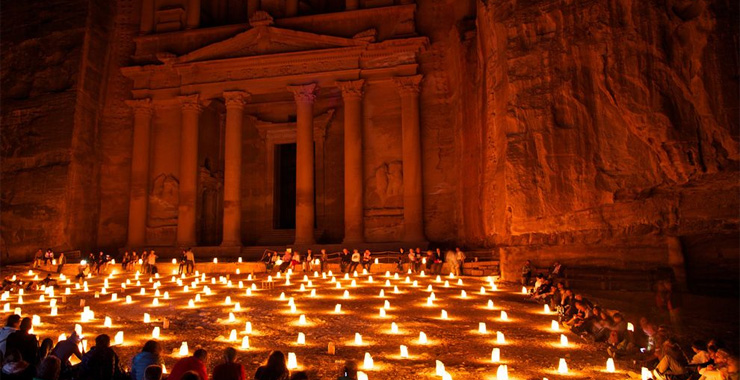 Petra
Petra, in the Hashemite Kingdom of Jordan, is a legendary archaeological site renowned for its massive rock-cut architecture. Built about two thousand years ago by the Nabataeans, it is a monumental city that has fired the imagination of tourists ever since it was introduced to the West in 1812 by the Swiss explorer, Johann Ludwig Burckhard.
Nineteenth century English poet, John Burgon, in his famous sonnet 'Petra', wrote about the city: 'Match me such a marvel save in Eastern Clime/ A rose-red city half as old as time.'
Itinerary
Depart from your hotel at about 5am (tbc), and drive to the Taba Marina. Sail to Aqaba, in Jordan. Drive to Petra, which usually takes about two hours. We then embark on a guided tour of Petra (up to four hours), including highlights such as The Siq, the Treasury, and the Royal Tombs.
We return to the entrance area, before driving back to Aqaba to catch the ferry at about 7.30pm. Lunch will either be before or after the guided tour, depending on timings and light conditions.
Price Includes:
[list style="gear"]
Transportation in Egypt and Jordan
Ferry
Entrance fees
Guided tour of Petra
Open buffet lunch
Two week Gulf of Aqaba stamp
[/list]
Price:
| | | | | | | |
| --- | --- | --- | --- | --- | --- | --- |
| Trips | 1 Pax | 2 Pax | 3 Pax | 4 Pax | 5 Pax | 6 Pax |
| Petra Overday by ferry | 250 $ | 250 $ | 240 $ | 235 $ | 230 $ | 225 $ |
[infobox type="info" clickable="yes" boldtext="Note"] Please ask us about visa requirements for this trip. Visas are available at all border crossings.[/infobox]